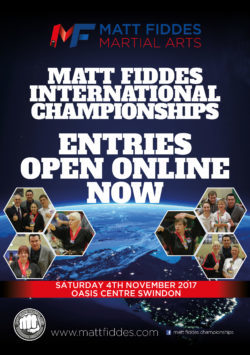 2017 International Championships
Saturday, 4th November
Oasis Leisure Centre, Swindon
It is that time of year again when all the best competitors from the MF family come together to compete for the title of "British Champion".  This year is extra special because, as well as students from across the UK and Scotland, we welcome our cousins from Australia making this tournament the 2017 International Championships.
We will be training for this in every sessions and so if you would like to be part of the MF Kent Team please speak to your Instructor.  You can compete in:
Mighty Matt (3-6yrs) Hand-drills
Mighty Matts (3-6yrs) Kick-Boxing Drill (Brown-stripes and above only)
Mighty Matt (3-6yrs) Wavemaster
Hand-drills
Kick-boxing drill
Sparring
Forms (individual, pairs & Instructor categories)
Extreme kicking
This is a really exciting family day out and students will take so many positives from it so come and speak to us and be part of team MF Kent!
To enter simply click here
Tags:
Junior Instructor
,
Martial Arts Kent
,
Master Finch
,
Matt Fiddes Kent
,
Matt Fiddes martial arts
,
Matt Fiddes Martial Arts Ashford
,
Matt Fiddes Martial Arts Canterbury
,
Matt Fiddes Martial Arts Herne
,
Matt Fiddes Martial Arts Maidstone
,
Matt Fiddes Martial Arts Staplehurst
,
MF Kent