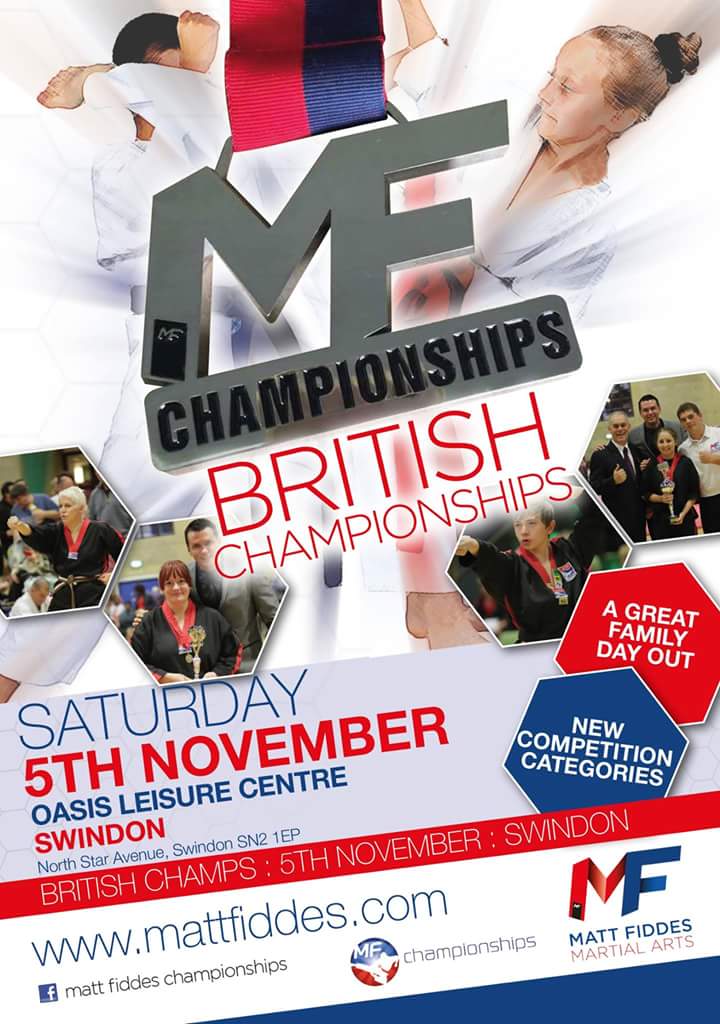 BRITISH CHAMPIONSHIPS
5th NOVEMBER 2016
SWINDON
This exciting day is fast approaching and we will be running 2 Championship specific training sessions in conjunction with our normal classes.   These are ideal preparation for any student wishing to take part and compete.
The Championships are open to all students from Purple Belt and above and all ages, including our Mighty Matts!  The categories are:
Forms
Team Forms
Sparring (points)
Sparring (continuous)
Hand-drills
Kick-boxing Drill
Xtreme Kicking Combo
Wave Master (Mighty Matts only)
The Championships training sessions will be held as "open mat" sessions which means you can come along and practice whatever you wish for the big day.  We will be there to guide and suppport you.  The sessions are:
Chilham Sports Centre, Chilham:
Sunday, 16th October
Sunday, 23rd October
Tickets for both spectators and competitors can be purchased from here. (spectators under 12yrs go FREE!)
See you all there!
Tags:
Matt Fiddes Kent
,
Matt Fiddes martial arts
,
Matt Fiddes Martial Arts Canterbury
,
Matt Fiddes Martial Arts Chilham
,
Matt Fiddes Martial Arts Herne
,
Matt Fiddes Martial Arts Maidstone
,
Matt Fiddes Martial Arts Reculver
,
Matt Fiddes Martial Arts Staplehurst
,
Matt Fiddes Martial Arts Swalecliffe
,
MF Championships
,
MF Kent