NEW CLASSES Matt Fiddes Martial Arts Sittingbourne
We are very pleased to announce the launch of a NEW Matt Fiddes Martial Arts location in Sittingbourne starting from Friday, 8th July 2022.
This new MF School will be taught and managed by Mr James Levermore (mrlevermore@mattfiddes.com) and will include a wonderful opportunity for both parents and children to train together in our Family Class:
​The Fitness Centre, Sittingboure (Google map)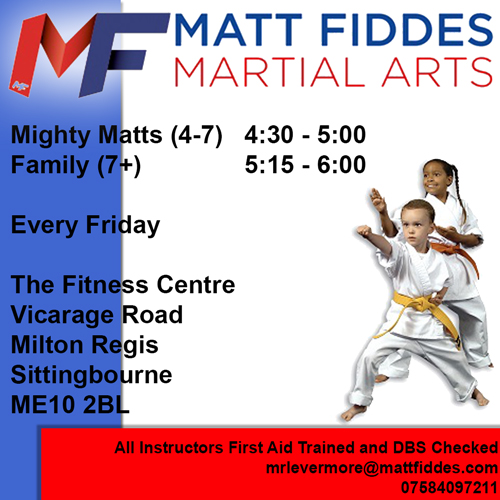 Launch day: Friday, 8th July 2022

Mr Levermore would love to see you there for the launch day and so if you would like an extra session or would simply like to go along to help out and support please contact Mr Levermore this week (spaces will be limited).
Good luck Mr Levermore on your new venture and we look forward to welcoming your new Sittingbourne students in to the MF Family.