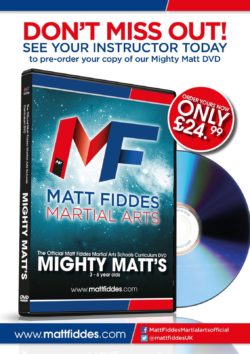 NEW Mighty Matt Training DVD – available now!
We are delighted to announce the launch of our brand new training DVD just for our Mighty Matt programme.
This DVD is the perfect training for outside of the class – ideal for sharpening thise skills at home or preparing for Gradings and tournaments.
The DVD includes:
seperated belts levels

each move and drill shown in normal speed and slow motion

every single technique demonstrated from white belt – brown stripe badge 3

all hand-drills
kick-boxing drill in full
To order your copy speak to your Instructor or e-mail us : kent@mattfiddes.com
(We also have a "White – Black DVD" for our Juniors & Adults)
Tags:
JCIT
,
Leadership
,
Martial Arts Kent
,
Master Finch
,
Matt Fiddes
,
Matt Fiddes Kent
,
Matt Fiddes martial arts
,
Matt Fiddes Martial Arts Canterbury
,
Matt Fiddes Martial Arts Chilham
,
Matt Fiddes Martial Arts Herne
,
Matt Fiddes Martial Arts Maidstone
,
Matt Fiddes Martial Arts Reculver
,
Matt Fiddes Martial Arts Staplehurst
,
Matt Fiddes Martial Arts Swalecliffe
,
MF Kent