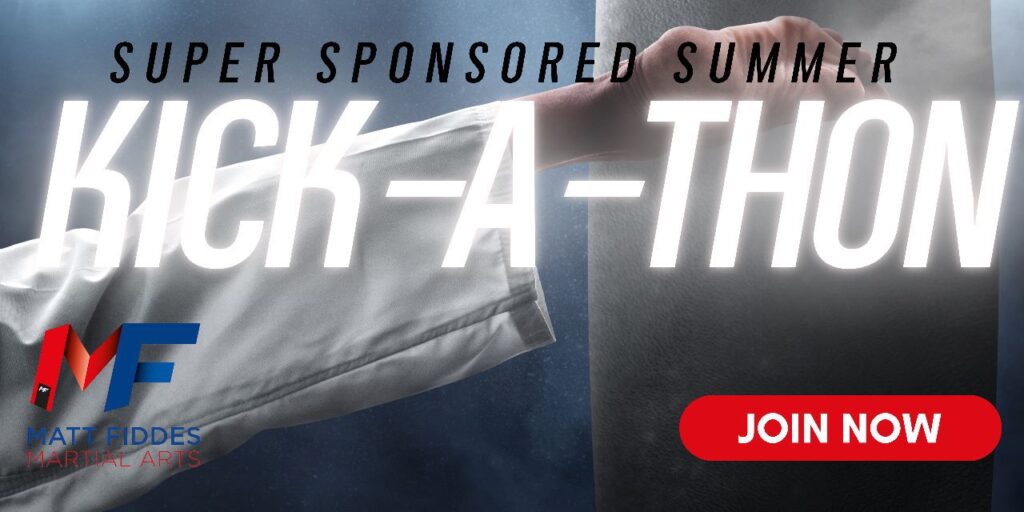 We are excited to announce the National MF Summer Kick-a-Thon, a fantastic opportunity for all students and instructors to showcase their skills, stay active, whilst raising money for our Australia 2024 team.

CLICK HERE FOR THE OFFICIAL MF FUNDRAISING PAGE FOR AUSTRALIA 2024

Help the UK MF Martial Artist Team compete in Oz! Support our UK martial arts team's journey to the MF International Championships 2024 in Australia. Help make their dreams a reality. www.crowdfunder.co.uk

Here are the essential details you need to know:

Date: The Summer Kick-a-Thon will take place throughout the entire Summer holiday period ending on September 3rd.

Venue: This event can be held in any location convenient for participants. Students can engage in the Kick-a-Thon at home, in parks, or even at our training centers.

Objective: The primary objective of the Kick-a-Thon is to raise funds to support our Australia 2024 team. All money raised will go directly towards covering expenses for the team's participation in the Australia 2024 Championships.

Participation: We invite all students and instructors to take part in the Summer Kick-a-Thon. It is a wonderful opportunity to challenge oneself, improve techniques, and have fun while contributing to a meaningful cause.

Activity Requirements: To participate, each student is required to set a personal goal for the number of kicks they will complete throughout the Summer holidays. They can choose any kicks they prefer, but it must be witnessed and recorded. This ensures accuracy and transparency in tracking progress. Participants are encouraged to challenge themselves and make the most of this opportunity to enhance their skills.

Registration: To register for the Summer Kick-a-Thon, students should speak to their instructor or email mfunited@mattfiddes.com . Upon registration, each student will receive sponsorship forms and recording sheets directly via email or from their instructor. These forms will contain all necessary details, including payment information, to facilitate seamless participation.

Fundraising: The funds raised through the Kick-a-Thon will play a crucial role in supporting our Australia 2024 team. We kindly request participants to reach out to family, friends, and community members for sponsorship. Sponsors can contribute either a fixed amount or pledge a certain amount per kick achieved by the participant.
Let's work together to surpass our fundraising goals and show our unwavering support for our team! Sponsors can be made via cash or through our crowdfunding page, payments this way will need the name of sponsor and student they are sponsoring as reference.

Let's kick off the Summer holidays with enthusiasm, dedication, and a strong sense of community and have lots of fun too!