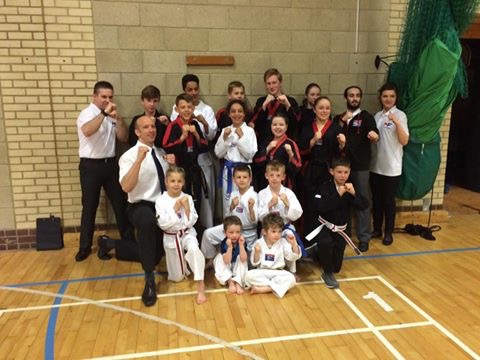 Saturday, 7th May saw the MF Kent Team travel to the Loddon Valley Leisure Centre in Reading for the 2016 Southern Championships.  These events are always very well attended and contested and this one did not disappoint.
After weeks of preparation and hard work we took a team of 15 and it is no exaggeration to say that each and every member gave their all.  We had tears, nerves, laughs and cheers throughout the day and with over 500 people watching the excitement was incredible.
MF Kent Team
Shahd Mohammed
Marwan Mohammed
Hugo Ross-Phillips
Emily Calder (2 x Gold, 2 x Bronze)
Ethan May (2 x Bronze)
Joseph Parkin
Harry Watkinson
Millie-Rose Hinder (2 x Bronze)
Charlie Hinder (1 x Silver, 1 x Bronze)
Lauren Russell
Jake Porter-Ward (1 x Silver)
Harry Richardson
John Boon (1 x Gold, 1 x Bronze)
Joshua Boon
Lauren Coulthard (1 x Silver)
Success at events like these can be measured in so many ways.  For some success is fighting back the nerves and stepping onto the mat or winning through one round.  For others it might be to reach further in the competition than last time or even win a medal.  Whichever it is we had a team of winners for sure.
A huge thank you to all our amazing parents, families and friends who came to support with so much energy and passion.  The atmosphere and team spirit was fantastic throughout the day and really highlights what a family we are.  In addition, thank you to our MF Kent Team Instructors and Leaders for helping, motivating and supporting all day.  It was amazing to see our "seasoned" competitors coaching (to great success!) our younger members.
Tags:
JCIT
,
Junior Instructor
,
Leadership
,
Martial Arts Kent
,
Master Finch
,
Matt Fiddes
,
Matt Fiddes Kent
,
Matt Fiddes martial arts
,
MF Championships
,
MF Kent